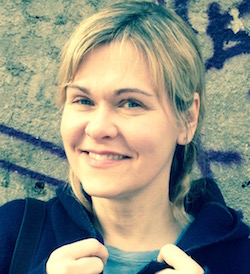 Violeta Davoliūtė, the 2015-2016 Joseph P. Kazickas Associate Research Scholar at Yale University, is a Senior Researcher in the Faculty of History at& Vilnius University and Lithuanian Cultural Research Institute. She has also been a Senior Researcher at the Lithuanian Institute of Literature and Ethnography, where she worked on mass population displacements and deportations from Lithuania to the Soviet gulag.  She completed her Ph.D. at the University of Toronto in 2004 in the field of Comparative Literature.  Her doctoral thesis was titled "Testimony: From the Poetics of Place to the Politics of Memory."
Dr.
Davoliūtė
is author of a new scholarly monograph, The Making and Breaking 
of Soviet Lithuania: Memory and Modernity in the Wake of War, published by 
Routledge in 2013.  In this book she examines how the Soviet regime used 
writers, artists, and creative intellectuals to adapt Soviet ideology the Lithuanian 
cultural milieu, and how these intellectuals used the Soviet agenda for their own 
ends.
Dr. Davoliūtė is also co-editor of the book
Maps of Memory: Trauma, Identity and 
Exile in Deportation Memoirs from the Baltic States, published in Vilnius in 2012.  
Another edited volume, Population Displacement in
20th-Century

Lithuania: 
Experiences, Identities, Legacies is forthcoming from Brill (Amsterdam).  She has 
published many articles in leading journals, including the Journal of Baltic Studies 
and
Ab

Imperio
.  
At Yale Dr. Davoliūtė is engaging in continuing work on her ongoing research 
project on the work and lives of Lithuanian intellectuals during the German 
occupation of Lithuania from 1941 to 1945.  A she wrote in her application for the 
Kazickas Post-Doctoral Fellowship,
The topic is important because the future of Lithuania' s cultural, social 

and political development and integration with the West depends in part 

on its success in coming to terms with the most difficult pages of its past. It 

is controversial because the study of this difficult past has often been 

guided by political as opposed to scholarly considerations.
Dr. Davoliūtė at Yale is focusing on researching analogous situations involving 
intellectuals and cultural elites in other European states under Nazi occupation 
and will consult with experts in related fields in order to best contextualize the 
documentary base of her study.