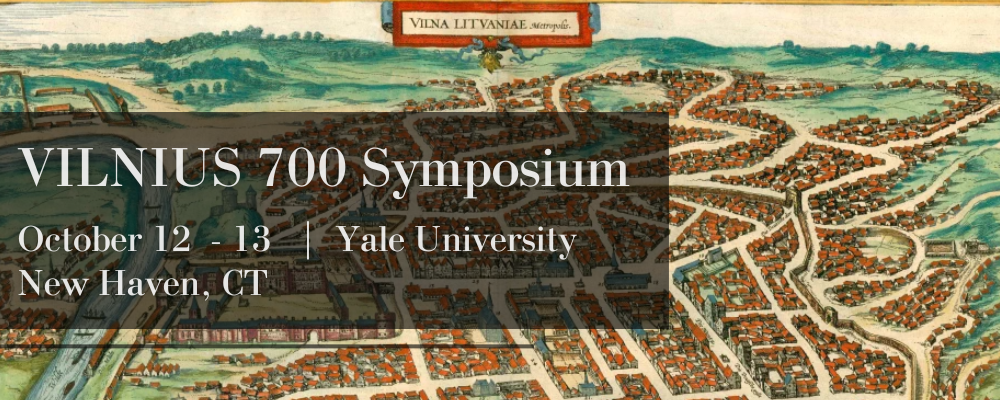 Register to attend via Zoom
Register for in-person symposium attendance
This two-day symposium brings together thinkers and writers engaged in the history and life of Vilnius to reflect on the role, space, and place of the city and its peoples. Vilnius encompasses centuries-long historical, cultural, and political significance to many nations of Central and Eastern Europe including Lithuanians, Poles, Jews, Belarusians, and others. The goal of the Vilnius 700 symposium at Yale is to reach for a better understanding of Vilnius both as a place and as an idea, a city with a multiplicity of peoples and voices – a wealth of polyphony. 
The Baltic Studies Program at Yale invites you to celebrate the 700th anniversary of the first written mention of Vilnius in historical sources by joining a keynote conversation, four panel discussions, and a musical recital with some of the leading scholars, artists, and practitioners of Vilnius' past, present, and future. 
Day 1 - October 12, 2023
10:00 am - 12:00 pm - Beinecke Rare Book & Manuscript Library (121 Wall St.); Classroom 38
Optional Guided tour and presentation of Vilnius-related archives
1:00 pm - 1:30 pm - 

Sterling Memorial Library (120 High St.); 

Lecture Hall 
Welcoming Remarks
Introduction: 
Edyta Bojanowska, Professor of Slavic Languages and Literatures and Chair of the European Studies Council
A message from Vilnius: Vice Mayor Simona Bieliūnė
Welcoming remarks: Ambassador of Lithuania in the United States Audra Plepytė 
1:30 pm - 2:15 pm
George Herbert Walker Jr. Lecture
Keynote speaker: Dr. Kristina Sabaliauskaitė
Moderator: Maksimas Milta (Yale University)
2:15 pm - 2:30 pm 
Break
2:30 pm - 4:00 pm
Panel 1: Vilnius as a Place of History 
Vilnius, a city with a remarkable polyphonic historical legacy, takes center stage in this panel. The session delves into the multifaceted history of this city with participants exploring the city's pivotal role in shaping the region's historical narratives and its broader significance within the history of Europe.
From medieval times to today, the panelists will examine intricate historical events and transformations where Vilnius served both as a place and as an idea for the nations of the region. Through captivating insights and interdisciplinary perspectives, this panel aims to deepen our understanding of Vilnius as a place of historical significance and its enduring impact.
Professor Emeritus Tomas Venclova (Yale University)
Professor Theodore Weeks (Southern Illinois University at Carbondale)
Professor Darius Staliūnas (Lithuanian Institute of History)
Professor Violeta Davoliūtė (Vilnius University)                                                     
Moderator: Dr. Bradley Woodworth (Yale University / University of New Haven)
4:00 pm - 4:30 pm
Coffee Break
4:30 pm - 6:00 pm
Panel 2: Vilnius as a Place of Culture, Arts, and Faith
This panel delves into the diverse tapestry of Vilnius' cultural and confessional expressions, exploring its historical roots, contemporary manifestations, spiritual, and artistic dimensions. How does the cultural significance of Vilnius contribute to the collective imagination in the region?
Through a multidisciplinary lens, panelists will examine the city's heritage, encompassing its architecture, literature, visual and performing arts. Additionally, the panel will delve into the intertwining of spirituality and cultural identity in Vilnius, exploring the role of religious traditions, philosophical movements, and sacred spaces for the nations of the region. By exploring the rich cultural and spiritual tapestry of Vilnius, this panel seeks to celebrate the city's unique contributions to the landscape of Europe's East and beyond.
Dr. Jonathan Brent (YIVO)
Dr. Jūratė Čerškutė (Institute of Lithuanian Literature and Folklore)
Professor Timothy Snyder (Yale University)
Ambassador Dr. Irena Vaišvilaitė (Vilnius University)
Moderator: Maksimas Milta (Yale University)
6:30 pm - 7:30 pm - 

William L. Harkness Hall (100 Wall St.); 

Room 201 (Sudler Hall)
Musical Recital
Music performed by the Haven String Quartet and Andrius Žlabys 
Selections include
Mikalojus Čiurlionis, String Quartet No. 1 in C Minor 
and 
Andrius Žlabys, Movement for String Quartet and Piano
7:45 pm - 9:30 pm - 

Humanities Quadrangle (320 York St.), 

Room 131
Reception hosted by H.E. Ambassador of Lithuania to the United States Audra Plepytė and Consul General of the Republic of Lithuania in New York Mr. Vaclovas Šalkauskas
Mini-exhibition of Vilnius-related books and items of the Yale Library
Anna Arays (Librarian for Slavic and East European Studies)
Konstanze Kunst (Judaica Librarian) TBC
Day 2 - October 13, 2023
Henry R. Luce Hall (34 Hillhouse Ave.); Room 203
9:30 am - 11:00 am: 
Panel 3: Vilnius as a Place of Exile and Refuge
This panel sheds light on Vilnius as a significant place of exile and refuge, particularly in the context of its role for Belarusians, Russians, and Ukrainians in the last decade. The historical legacy of Vilnius in providing sanctuary for individuals and communities seeking refuge from political, religious, and cultural oppression will be discussed as well. Panelists will explore the historical and contemporary experiences of those who have found solace and opportunity in Vilnius, discussing their contributions to the city and to the broader region.
The unique challenges faced by displaced communities and the ways in which Vilnius has become a beacon of hope and support for those seeking safety and freedom will be discussed by the panelists. What are the horizontal links that Vilnius-based refuges establish and how does that contribute to the continuously evolving polyphonic fabric of the city? These are some of the questions that will be addressed at the panel.
Dr. Laimonas Briedis (University of British Columbia)
Vera Dziadok (European Humanities University)
Konstantin von Eggert (DW)
Moderator: Katsiaryna Shmatsina (Virginia Tech)
11:00 - 11:15 am 
Coffee Break
11:15 am - 12:45 pm
Panel 4: Vilnius as a Place of Education
This panel explores Vilnius as a dynamic center of education, focusing on the city's continuing significance in academic tradition laid by Vilnius University from the 16th century to today. Vilnius has been a nurturing environment for intellectual growth, knowledge exchange, and academic excellence, including as a shelter to Europe's first university-in-exile – the European Humanities University. Panelists will delve into the city's rich educational heritage, highlighting the milestones and contributions made by its universities and scholars throughout history. 
The panel will explore Vilnius as a hub of innovation in school education, examining its current role in pioneering new approaches to teaching and learning. By examining Vilnius as a place of education, this panel seeks to celebrate its legacy, highlight its commitment to intellectual pursuits, and explore its future as an incubator for academic advancement.
Unė Kaunaitė (EDU Vilnius)
Professor Cecile E. Kuznitz (Bard College)
Rector Professor Krzysztof Rybiński (European Humanities University)
Moderator: Dr. Arvydas Grišinas (Kaunas University of Technology / Yale University)
12:45 pm - 1:15 pm
Concluding Remarks: Quo Vadis, symposium Vilnensis?
In this panel, moderators of the symposium share their takeaways from the discussions and suggest further avenues to continue the art of discovering and unfolding the tapestry of Vilnius' polyphony in the context of the city's historical significance, as well as challenges and opportunities facing Vilnius in a rapidly changing world.
Dr. Arvydas Grišinas (Kaunas University of Technology / Yale University)
Katsiaryna Shmatsina (Virginia Tech)
Dr. Bradley Woodworth (Yale University / University of New Haven)
Moderator: Maksimas Milta (Yale University)