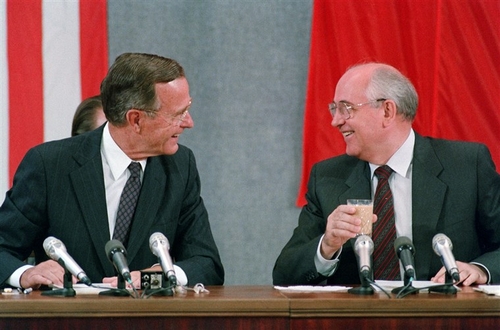 The following opinion piece written by Bradley Woodworth, Coordinator of Baltic Studies at the MacMillan Center and Associate Professor of History at the University of New Haven, and Matthew Schmidt, Associate Professor of National Security and Political Science at the University of New Haven, appeared online in LRT English on March 11, 2021:
Thirty-one years ago, on March 11, 1990, the Supreme Council of the Republic of Lithuania declared independence. As inevitable as it seems today, the United States was very far from supporting this outcome. 
Moscow said the action was meaningless, and the administration of George H W Bush worried it could trigger the collapse of what it saw as a new international order made possible with Mikhail Gorbachev at the helm of the USSR.
In March 1990, Lithuania's Baltic neighbors likewise finally held free elections to their republic-level Supreme Soviets. A year later, on March 3, 1991, the Estonian and Latvian SSRs held referenda asking permanent residents if they were in favor of the "reestablishment" of independence and statehood as the Republic of Estonia and the Republic of Latvia.
Formally, American policy had supported this language, which reflected the official US position that membership in the Soviet Union had been imposed illegally on the Baltic countries. Yet despite this formal position, the US had initially been cautious in its approach to the region after 1989, engaging in what Latvian historian Una Bergmane calls the "politics of uncertainty", in her forthcoming book by the same name (Politics of Uncertainty: The US, the Baltic Question and the Collapse of the USSR).
With German unification proceeding, Western countries – especially the United States – were worried about weakening Gorbachev, who had opened the door to what Richard Boucher, the US spokesperson for the Department of State at the time, said was a wide-spread belief in a "brave new world of doing things together" with the reformist in the Kremlin.