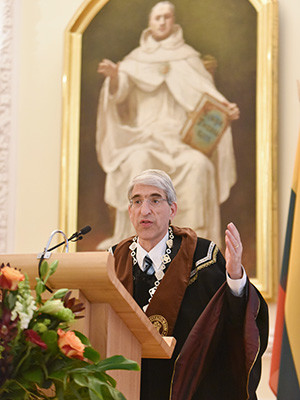 On June 20 President Peter Salovey received an honorary degree for his pioneering scholarship on emotional intelligence from Vytautas Magnus University, a leading public university with a focus on the liberal arts, located in Kaunas, Lithuania.
Salovey's trip included meetings with university leaders, lectures, and visits to significant sites in Lithuania.
"It is a tremendous honor to receive an honorary degree from Vytautas Magnus University, one of the great centers of liberal arts education and scholarship in Eastern Europe," Salovey said. "This trip is especially meaningful for me because many generations of my family — going back to the 18th century at least — lived, worked, and studied in present-day Lithuania and Belarus."
Read Salovey's remarks at the honorary degree ceremony.
Salovey attended the opening of an exhibit at the Valdas Adamkus Presidential Library titled "The History of Kaunus Soloveitchik Family," which focuses on his family's deep roots in the region. The exhibit traces the Soloveitchiks' leadership in the city's Jewish community; their contributions to Lithuanian culture, politics, and economy; and their activities around the world. The Soloveitchik rabbinical dynasty is considered one of the most historically significant in modern Judaism. In 1803, Salovey's ancestor Hayyim Volozhin founded the Volozhin yeshiva, located in what is today Belarus. The yeshiva became one of the most prominent and influential centers of Jewish scholarship. Other family members were leading rabbinical scholars throughout the 19th century. Salovey's grandfather changed his surname to Salovey when he emigrated to the United States from Jerusalem in the early 20th century.
As part of his trip, Salovey met with other university leaders and scholars from Eastern Europe. He participated in the forum "Reimagining the Future of the University: Traditions and Innovations" at Vytautas Magnus University, and he delivered a lecture on "Emotional Intelligence in the Lab, Workplace and Classroom" at Vilnius University, the oldest and largest university in Lithuania.
"Yale is committed to working collaboratively with international partners to solve global challenges and prepare students to lead and serve in a rapidly changing world," Salovey said. "This visit was a wonderful opportunity for me to discuss with scholars and educators from Lithuania the unique role universities play in incubating transformative ideas, in encouraging social mobility, in bolstering the economy, and in bringing together the best minds across cultures, national borders, political differences, and socioeconomic divides."
---