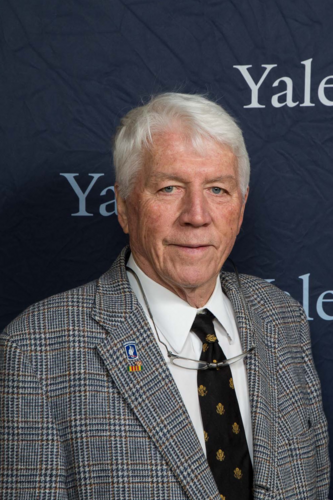 Dr. Kristaps Keggi (Yale College, 1955, Yale School of Medicine 1959) passed away unexpectedly on Tuesday, July 4. Dr. Keggi was known at the MacMillan Center as a key supporter of programs, especially the Baltic Studies Program, for which he was a key founding donor. Through his generosity, post-doctoral scholars from Latvia and Estonia have come regularly to Yale since 2013 to further their research. He also funded an Baltic librarian internship program that brought librarians from Latvia, Lithuania, and Estonia to Sterling Memorial Library for additional training. Through the Keggi-Bērziņs Fund established by Dr. Keggi, Yale students are able to study in the Baltic region.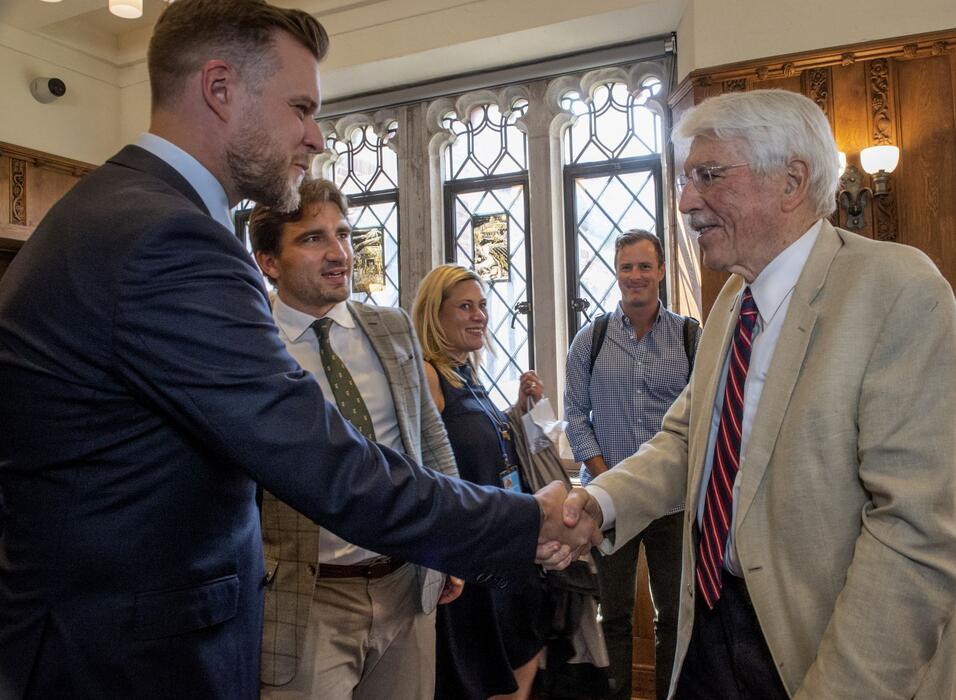 Dr. Keggi greets Minister of Foreign Affairs of Lithuania Gabrielius Landsbergis at Yale University on September 22, 2022
Born in Latvia in 1934, Kristaps Keggi fled his German-occupied homeland in 1944 with his family as Soviet forces neared before retaking the country. He arrived in the United States in 1949 at age 15. Less than six years later, in 1955, he graduated from Yale College, and then from the Yale School of Medicine in 1959. After finishing his residency in Orthopedic Surgery at Yale New Haven Hospital in 1965, he served as a surgeon in a mobile surgical hospital in the US Army's 173rd Airborne Brigade Combat Team. On Veterans Day in 2019, Dr. Keggi recalled his service: https://youtu.be/r1utAE-82WA
Dr. Keggi went on to become a pioneering orthopedic surgeon, particularly in the field of full hip replacement. He was director of Waterbury Hospital's Orthopaedic Center for Joint Reconstruction, where he performed surgery from 1969 until 2018. With the greater openness of the Soviet Baltic region beginning in 1987, Dr. Keggi began making frequent trips to Latvia, where he helped train a number of orthopedic surgeons, and himself conducted operations, including over 100 hip replacements for patients in both Soviet Latvia and other places in the USSR.
In 1988 he established a not-for-profit foundation that brought more than 300 physicians from Latvia and elsewhere in the USSR, and from Vietnam, to the Yale School of Medicine and Waterbury Hospital for advanced training in orthopaedic surgery. In 1989 he became a clinical Professor of Orthopaedics and Rehabilitation at Yale University and was elected full professor in 2008. He was the recipient of four honorary doctorates, multiple teaching awards, and many awards for distinguished service, including from the Republic of Latvia and Republic of Estonia for distinguished service as well as an award for service to Russian medicine and honorary membership in the Russian Academy of Sciences.
Dr. Keggi was proud of his maternal grandfather Ludis Bērziņš (1870-1965), a professor of Latvian literature at the University of Latvia and a leading scholar of Latvian oral poetry and literature, a poet, and a writer of hymns.  In 1990, while Latvia was still under Soviet control, Dr. Keggi founded a museum to his honor in the city of Jūrmala, Latvia, in the house his grandfather lived from 1934 to 1944.
Dr. Keggi's influence throughout the Baltic and with students of the region will be profoundly missed. His own family connections went beyond Latvia. In his memoirs, My Century: A Memoir of War, Peace, and Pioneering in the Operating Room (2022) Dr. Keggi wrote that his paternal great-grandfather left Estonia to live his life in Latvia. (The surname "Keggi" is of Estonian derivation.) His grandfather Ludis Bērziņš studied at the university in Tartu, Estonia. Dr. Keggi told Tatjana Lorkovic, former Curator of Yale University Library's Slavic and Eastern European collections, that the Baltic librarian internship program was a thank you to his Latvian and Estonian grandmothers, who taught him foreign languages and a love of reading. 
---
Bradley D. Woodworth, Baltic Studies Program Manager