The Yale Program in Baltic Studies of the European Studies Council is pleased to provide support for the following graduate students to attend The Association for the Advancement of Baltic Studies (AABS) conference in Philadelphia, PA.
Egidijus Balandis (Vytautas Magnus University Lithuania) Paper: "Lithuanian-American Sports Heroes in the First Half of the 20th Century: Creation of Celebrity, Lithuanian Community and its Practices of Supporting Athletes"
Viktors Dāboliņš, (Museum of the History of Riga and Navigation, Latvia) Paper: "The Making of History: Livonian Coin Collectors from the Late Seventeenth Century to the mid-Eighteenth Century"
Maarja Merivoo-Parro (Tallinn University, Estonia) Paper: "Exploring the Cold War Estonian Diaspora Through Popular Music"
Liina-Ly Roos (University of Washington) Paper: "Traumatized Bodies in Baltic Imagination"
Aiste Zalepuga, (Yale University) Paper: "Preservation of Baltic Memory in a Digital Age"
---
Global, Glocal, and Local: Distinction and Interconnection in the Baltic States
University of Pennsylvania, Philadelphia, USA, May 26-28, 2016
The 2016 AABS conference will explore the independence, dependence, and interconnections of Baltic states, peoples, and communities across time and space in multidisciplinary and interdisciplinary perspective. It will uncover the distinctive, hybrid, and globalized features of culture, politics, economics, history, language, and other aspects of life in the Baltic countries.
---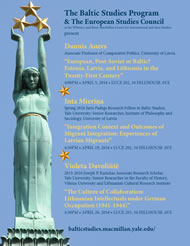 The Yale Baltic Studies Program is an interdisciplinary forum for the study of the Baltic Sea region, with an emphasis on the lands that comprise contemporary Estonia, Latvia, and Lithuania. The program sponsors workshops, symposia, and lectures, and serves as a resource for and liaison among students and scholars whose work involves the Baltic region.
The Program hosts two visiting fellows from the region, appointed after a comprehensive international search held every other year.
In March 2014 the Baltic Studies Program hosted a joint conference of the Society for the Advancement of Scandinavian Study and Association for the Advancement of Baltic Studies in New Haven, CT.  The conference was attended by over 500 people from twenty-two countries.
The Baltic Studies Program is supported through the generosity of Dr. Kristaps J. Keggi, M.D. (Yale College, 1955); Mr. Juris Padegs (Yale College, 1954); and the family of the late Dr. Joseph Kazickas (Yale PhD 1951).
Bradley Woodworth
Yale Baltic Studies Coordinator
bradley.woodworth@yale.edu
---
Upcoming Events
New Technologies and U.S. Deterrence in the Baltics and Ukraine: a discussion with Stuart Johnson of the RAND Corporation about new defense technology initiatives to increase deterrence in the region. Monday, April 11, 2016 11:45-12:50 p.m.