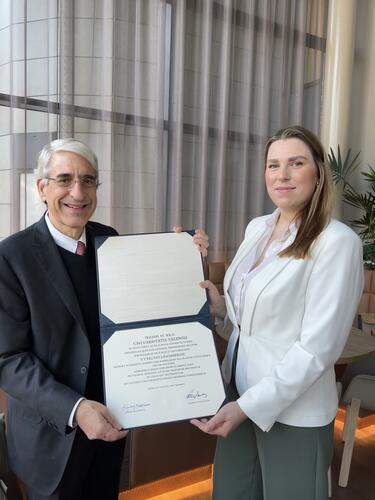 Professor Vytautas Landsbergis was nominated for Yale's Honorary Doctor of Laws degree in 1992, two years after Lithuania's liberation from Soviet occupation. Landsbergis then served as the speaker of the Lithuanian parliament. He was a pivotal person in the Lithuanian independence struggle. Unfortunately, Professor Landsbergis was not able to attend the commencement at Yale in 1992 due to political events in Lithuania. 
On September 30, 2022 President Peter Salovey delivered the honorary diploma to Professor Vytautas Landsbergis' granddaughter, Dr. Elena Landsbergytė-Bukauskienė, during his trip to Kaunas, Lithuania. Professor Landsbergis' health prevented him from receiving his honorary degree, but he did send President Salovey a handwritten note of gratitude.
Gabrielius Landsbergis, Lithuania's Foreign Minister and a grandson of Professor Landsbergis, also visited Yale in September. He met with President Salovey and participated in a public conversation with students and staff hosted by Yale MacMillan Center. See here for more information on the talk and its video.
Written by:
Maksimas Milta, MA Student in European & Russian Studies, European Studies Council