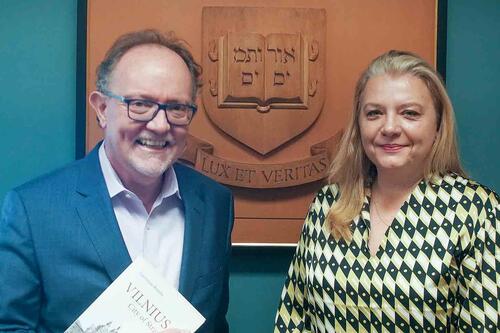 Gražina Michnevičiūtė, the Cultural Attaché at the Consulate General of the Republic of Lithuania in New York City, visited the MacMillan Center on February 3, 2023.
Since 2018, as Lithuania's Cultural Attaché Ms. Michnevičiūtė fosters cultural diplomacy and advances Lithuania's presence on the cultural and educational scene across the US. Ms. Michnevičiūtė is responsible for the activities sponsored by the Lithuanian Cultural Institute in the US, including art exhibitions, musical concerts, film festivals, and beyond. Among her most recent flagship projects are an annual New York Baltic Film Festival and a 2022 programming of Jonas Mekas' centennial in the US. As an accomplished foreign affairs, lifestyle, and culture journalist, Ms. Michnevičiūtė spent almost three decades of her professional career at Lithuania's leading media and publishing houses, including as an Editor-in-Chief of the Moteris and Ieva, and Deputy Editor-in-Chief of Žmonės magazines. Ms. Michnevičiūtė holds a graduate degree in Languages and Literature from Vilnius University and Master's degree in Journalism from the University of Wales. In addition to Lithuanian and English, she speaks Polish and Russian.
The Baltic Studies Program at the MacMillan Center is collaborating with the Consulate General and the Lithuanian Culture Institute in Vilnius, Lithuania, in organizing at Yale this October a two-day event commemorating the 700th anniversary of the founding of Vilnius, the capital of Lithuania. To discuss this collaboration, Ms. Michnevičiūtė met with Steven Wilkinson, Henry R. Luce Director of the Whitney and Betty MacMillan Center. Wilkinson is Nilekani Professor of India and South Asian Studies and Professor of Political Science and International Affairs at Yale where he also serves as Vice Provost for Global Strategy. The Yale Baltic Studies Program is an interdisciplinary forum for the study of the Baltic Sea region, with an emphasis on the lands that comprise contemporary Estonia, Latvia, and Lithuania. The Baltic Studies Program is coordinated by Bradley Woodworth, Associate Professor of History at the University of New Haven.
During her visit, Ms. Michnevičiūtė participated at the European and Russian Studies community lunch talk. She also took a tour of the Yale campus, which included a guided visit of the Beinecke Rare Book and Manuscript Library led by Michael Morand, Public Relations and Communications Officer at the Beinecke. On her campus visit, Ms. Michnevičiūtė was accompanied by Maksimas Milta, graduate student in the European and Russian Studies program at Yale.