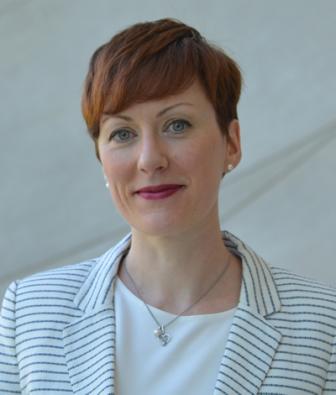 Spring 2017 Joseph P. Kazickas Visiting Assistant Professor in European Studies
Jolanta Mickute is Assistant Professor of History at Vytautas Magnus University in Kaunas, Lithuania.  Her research examines political and cultural issues in the interwar period in Central and Eastern Europe.  Her current work focuses on the experience of Jewish women in interwar Poland, including Vilnius and the surrounding region.  She received her Ph.D. from Indiana University, and holds master's degrees from Oxford University and Vilnius University.  She has held research fellowships in a number of countries, including Poland, Israel, Germany, and the United States.  Her work has appeared in East European Politics and Society, Jewish Social Studies, Arts and Humanities in Higher Education, and other publications.   
At Yale Professor Mickute is working on several projects, including a book on the Jewish community in interwar Poland and an article on the meanings of Vilne/Wilno/Vilnius for Jews, Wilna-born Poles, and Lithuanians in Kaunas, the capital of interwar Lithuania.  Her book project, titled "Modern, Zionist, Feminist: The Politics of Culture, Ethnicity, and Gender in Interwar Poland, 1918-1939," analyzes how Jewish women – fractured along class and generational lines – contended with their double marginality through political activism, social work, education, and work in the home.  She explores how limits established by tradition, ethnicity, class, locale, and gender shaped Polish Jewish women's identities during the 1920s and 1930s, but also shows that operating from the margins opened up space for activism.
Professor Mickute is also academic director at Ethnic Kitchen (Pasaulio virtuvė) in Lithuania, a non-profit organization that supports art projects and cultural intelligence enhancement training to strengthen integrated, civil society in Lithuania.  She is also part of a project to make a documentary on Holocaust remembrance in post-1991 independent Lithuania.